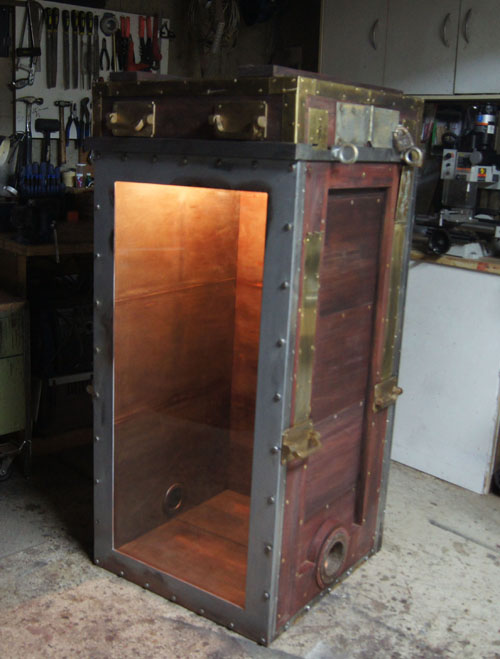 Here is our theory, as crazy as it sounds. When the museum was being moved to the second location, a local farmer stored the WTC and other items from the museum as a favor. The items that had been stored were moved into the new museum location; everything except the WTC. Parts from this Cell had been removed (the two back handles, two plugs, one piece of the side hasp, etc). The Cell that was stored remained stored for decades - minus the parts mentioned. Over the years other magicians and collectors had been contacted regarding a sale but there were no buyers. A fellow performer from Nova Scotia had been approached but he was not in the position to purchase it at that time. We purchased the Cell when Dayle had been contacted by the seller and this was because they had found her as The Houdini Girl and thought she might be interested.
We are not certain, but we think that the Cell that went into the museum that Randi had measured had been left in storage when the museum moved, and a duplicate Cell was made using the parts removed from the original WTC. This duplicate was then put in place in the new museum location.
Maybe this is why no one really cared about the condition of the WTC that was in the museum and it was so neglected over the years?
It is odd that when there was a fire in the museum, essentially the only thing that burned was the WTC and the museum was scheduled to close later that year. After the fire and the insurance claim was processed the Cell that was stored had to remain hidden.
After all the time and money invested, we still do not have any definitive proof of what this Mystery WTC is, BUT WE LOVE IT!
If anyone has any information or questions, they would like to discuss please feel free to contact us at info@houdiniwatertorturecell.com.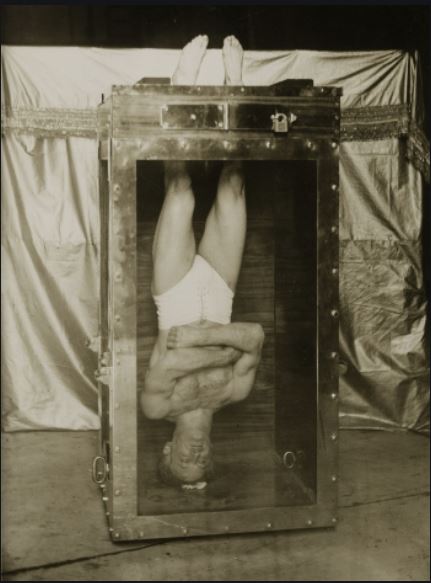 Below are other people's experiences and ideas in regards to this Water Torture Cell:
Insights from Ken McCreedy who worked at the Houdini Hall of Fame museum
When I was 16-18 years old, I worked at the Houdini Museum in Niagara Falls. (1976-1978)
Several years later, I was approached by a carpenter who told me he had allot of Houdini items that he had for sale. Some large and heavy items and some small. The carpenters name was Joseph Futino.
I asked him where he got the items and he told me he got them from Barrett Kirkendall. Barrett went under the stage name of Dante and he was from Rochester NY. He managed the museum for a year and then he disappeared. Joseph said he stored the items for Barrett.
Henry Muller told me that the year Barrett managed the museum was the only year that they didn?t make any money. He suspected him of stealing.
I told Joseph Futino that I would be interested in some items and that I used to work at the museum several years earlier. When I went to see what he had, he showed me a guillotine that he made for Barrett. That was the only thing he showed me. I said ? what about the Houdini items?? He said I have them stored away. I purchased the guillotine from him and found a Houdini printing woodcut and some keys inside. Great find!
I told him to call me when he got the Houdini items from storage. I never did get a call.
Perhaps this was the same storage from where you purchased the Water Torture Cell? Only a thought.
Yes, there definitely was two Water Torture Cells in Niagara Falls.
If you look at the one from opening day on June 1968, you will find that the top is very similar to the one you have. The metal trim(silver) is very similar to yours and the handle placement is very similar to yours.
The picture that I have from the museum when it was on Clifton Hill shows a totally different top.
I can and do believe that Barrett Kirkendall could have found the other one in the crate and stored it with Joseph or someone else. Barrett was a very shifty character.
Incidentally, Barrett went to Las Vegas to manage a casino and they found him in the desert with his hands tied behind his back and a bullet wound to the head. That was in 1983. I guess you don?t mess with the mob. Ken McCreedy
Two Water Torture Cells
There is a blog online that mentioned a book by Patrick Culliton in which Mr. Culliton states that there were two Water Toture Cells.
Miss Trixie
As previously mentioned on this site, a woman by the name of Miss Undina copied Houdin's Water Torture Cell and was performing it as her own. Houdini contacted his lawyers to prevent her from continuing to copy his most famous escape but then he hired another woman called Miss Trixie to present a Water Torture Cell in Europe once he had left. Miss Trixie was given a duplicate Cell while Houdini conintued to travel and perform with his own Water Torture Cell. This is proof that there were at least two 'Houdini' Water Torture Cell's in existance and operating at the same time.
Chain Damage on Water Torture Cell
When Houdini's Water Torture Cell was delivered to the Niagara Falls museum it was unloaded from a flat bed trailer as you can see in the image above. The straps were pulled tight against the Water Torture Cell as you can see in the image above.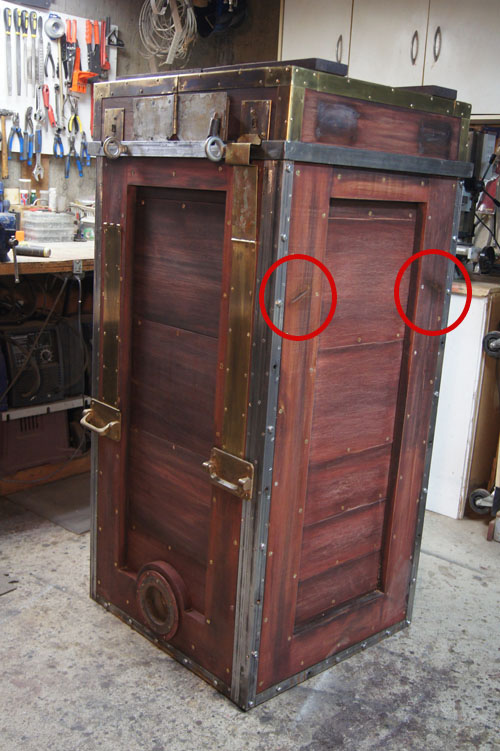 Is this why there is damage in the same areas on the Water Torture Cell we purchased? Thanks to Ron Mangano for sending us scanned copies February 19 2021 of the Magic Magazine article where the picture of the Water Torture Cell being unloaded were shown.
Insights from a visitor of the Houdini Hall of Fame museum: Diego Domingo
I went to the Houdini museum in December/1972. A few months or year previously, there was a letter to Genii or The Linking Ring complaining that the tacky displays were presented in a manner that was bad for Houdini s memory. It suggested others write to the museum to complain. I did and received a letter thanking me, etc., with a tour brochure included. When I did attend the museum, I was probably just glad to be there, but did notice how vulnerable different items were, with little/no supervision. (can t recall if they had video cameras back then.) There is museum quality and MUSEUM quality. The museum was like the wax museums and other attractions for the tourists, not The Getty or collections of Klosterman, Lund, or Copperfield. Although a good price, (for then) was paid, this was before magic collecting, would become a market. I have somewhere a photo snapshot of the front of the WTC. They may not have, but it wouldn t have surprised me if they had kept the original safely away and put a copy on display, especially with the water tank inside with rising bubbles.
To me, it makes perfect sense to display a duplicate and preserve the original, especially sense items on display were so easily vandalized or stolen. Especially since most would not know the difference. Why you were able to locate/obtain the cell and those who were preserving it, (Muller family) not have better protected it or had it on their property, is a question.
Last thing: I just came to me, that IF the Muller family/Museum managers had stored the original WTC, after the fire, it would have been applauded, (certainly by me) if they revealed the actual WTC is safe, and they took the precautions to save it this way. While it may have benefited the insurance payoffs, the original WTC that was undamaged, (unlike the skeleton frame that was sold at auction) would have sold at MUCH more money later. Diego Domingo
Hasp and Lock
Thanks to Ron Mangano for informing us about a YouTube video titled "In Search of Houdini's Secrets" Season 6 episode 11 at 9 minutes 56 seconds which shows a close up of the hasp and lock on Houdini's Water Torture Cell.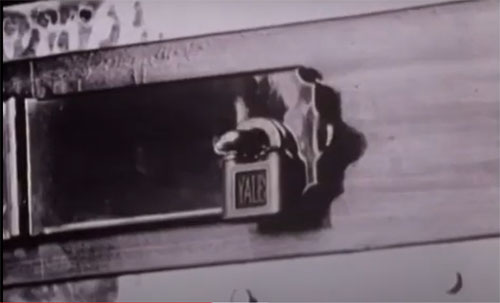 This hasp has a similar hinge to the one that was on our purchased Water Torture Cell. Neither of them have the large knuckle hinge that is visible on the Copperfield Water Torture Cell.

Dean Gunnarson's comments on a Facebook post:
In 1988 after Randi retired from his escapes he gave me his milk can , hanging apparatus, jail cell picks, handcuffs , and files of escape material. One of the things Randi gave me was a set of blue prints that he drew up when he took the WTC apart in the early 70's like Blair described. They are very detailed of 5 pages of the WTC. Very well drawn with lots of measurements. Randi told me how it worked and explained how he found a pop up panel with a breathing tube for safety. Randi told me to these secret and not to share the WTC plans. When Richard posted pictures I was interested. Richard and I were talking about and I told him about the plans Randi gave me. I decided to share them with Richard in a gentlemen's agreement to see if it would help shed some light. The plans measurements and the WTC matched.... So that WTC had to be in the Houdini museum at one time. I remember Henry Mulleur telling me that they use to have the WTC filled with water and a fish aquarium bubble tube in the tank. Over time the tank started to leak and rot so they took the water out. Maybe the tank was switched at that time ??? One extra thing. When I shared Randi's plans with Richard I never mentioned to him about the hidden compartment with the breathing tube on the bottom . Richard accidentally found it and wrote that up in his story. This WTC was definitely in the Niagara Falls Houdini Museum in the early 1970's..... Where it was before that I don't know. My believe is it was Houdini's. I believe Richard Sherry .
B. Robertson's comments on a Facebook post:
I stayed with James Randi for a week in 1980. He told me that early in the 1970's at the Magical Hall of Fame he took the WTC "apart" to see how it worked (without permission, I might add). The one thing that stood out in my mind - to this day - was Randi claimed there was a breathing tube in the bottom of the cell. THIS part is intriguing to me. Perhaps this was the cell that Randi examined? I have to confess. I thought Randi was spinning a tale. The two "safety" features of the WTC are the plugs and the glass. Why have a breathing tube? Randi barked at me, "It's an illusion. Houdini took NO chances!" I fully agree with Patrick Culliton above "resemblance is not provenance." It has been a while since I read The Key, but I don't recall breathing tubes being mentioned anywhere. Was there a tube in Houdini's original cell? Why would someone build a tube into a fake cell? Or is this just a BS red herring? Assuming it was built for display only, why go to that detail?